Street Art
Street Art in Valle Camonica
In the last decades the work of "Writers" on the walls of our cities has reached such a qualitative ability that some of their works are considered masterpieces of contemporary art in an artistic movement known as "Street Art ".
Some of these artists (who often prefer a "stage name") have decided to deal with a new challenge: the rock art of the Camonica Valley.
With "Wall in art" project (promoted by Comunità Montana della Valle Camonica), OZMO , one of the greatest Italian street art artists, plans to realize art installations on the walls of some municipalities of the Camonica Valley for a "park of contemporary signs". The project involves young local artists and young people from different parts of Italy, under the artistic direction of OZMO. The official launch on 13rd May 2015 was an opportunity to talk to young people about the importance of deep artistic research even in expressions like street art and to show the project, the territories involved and the organization.
Even "Hitnes" and "Baro", other popular street art artists, have challenged themselves with rock carvings and the results of their work can be visited at the National Museum of Prehistory and Ethnography Luigi Pigorini in Rome , within the contemporary art project "Community declensions".
Images of the exhibition at Pigorini in Rome: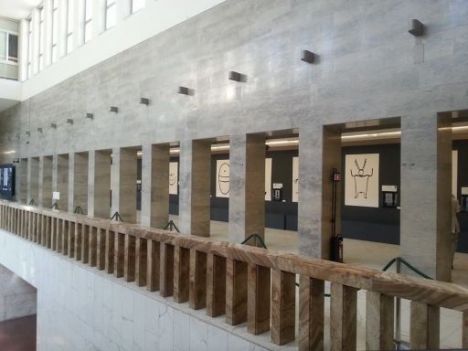 Details of the representations: